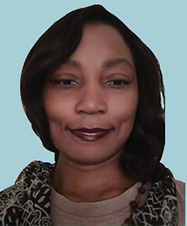 By Matilda Maseno, East Africa Philanthropy Network
Over the past years, philanthropy has been less concerned with declining levels of trust, in comparison to the government and corporate sectors. However, increasing criticism and the more frequent appearance of obstacles are changing the game. Since the onset of the Covid-19 pandemic, trust has become a central currency within the philanthropic ecosystem. Although recognizing the relevance of trust for their operations is important, questions remain regarding how to advance trust in practical terms. In recent years philanthropists have displayed increasing interest in practices that show respect for the autonomy and needs of their grantees and beneficiaries and hopefully improve the effectiveness of the grantmaking process (The Stanford PACS, 2020). One major aspect of this practice is "trust-based philanthropy".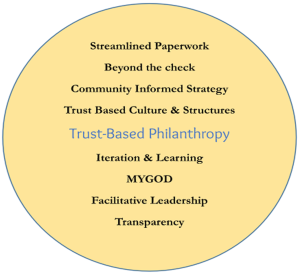 Source: Trust Based Philanthropy Project, Participatory Grantmakers.
Trust-Based Philanthropy involves various elements, such as:
Streamlined Paperwork: Decisions concerning monitoring and evaluation should be mutually agreed upon early in the grant process. Paperwork can be grueling and time-consuming for nonprofits, and funders seldom need to impose more requirements for monitoring and evaluation than it would be useful for the organization itself regardless of funding.

Beyond the check: In addition to providing funding for consultants on issues ranging from strategic planning to fundraising, funders can support their grantees by making introductions to other funders, offering support during transitions, and providing meeting spaces and other resources. Funders can also co-create strategies that support the beneficiary's mission.

Community Informed Strategy: When trying to address social problems—particularly those that affect marginalized communities—learning about the nature of those problems from your intended beneficiaries can inform your approach and result in the development of a more successful strategy.

Trust Based Culture & Structures: The ability of philanthropy organizations to implement trust-based grantmaking practices is directly tied to their ability to build and maintain an internal organizational culture rooted in trust. They also ought to reexamine their organization's structures so that this supports, rather than inhibits, their work.

Iteration & Learning: Donors should actively solicit feedback from current, past, and declined grantees about their strategies and funding practices.

MYGOD: In 2019, Vu Le coined the term MYGOD for this imperative approach: 'If funders actually want to help organizations strengthen their infrastructure, it's simple: stop providing restricted capacity-building grants and just give Multi-Year General Operating Dollars—MYGOD! —and get out of the way (Sommer 2022).

Facilitative Leadership: This involves

working with and through other people to achieve organizational goals. Trust is essential for this kind of leadership and it

emphasizes communication, culture, and relationships.

Transparency: Open communication can help build mutual respect and trust between donor and grantee that ultimately contribute to impact.
Trust can be viewed from two perspectives, trust in intentions and trust in competence (Nooteboom, 2006). It influences personal and institutional relations: on one hand as an authentic, honest intention and a willingness to be vulnerable, and on the other side as reliance on competence and skills (Alter et al., 2021). Three areas that are key in exploring knowledge and expertise as well as initiating dialogue and collective reflection to improve the practice of philanthropy vis-à-vis the resource trust, include: 
Increasing the understanding and awareness of the role of trust in philanthropic practice. 

Creating a network of like-minded philanthropists devoted to trust-driven philanthropic practice. 

Identifying the modalities of a practical concept of trust in philanthropic practice. 
At the core of trust-driven philanthropy are five overarching principles – Commitment, Public Purpose, Relevance, Performance and Accountability.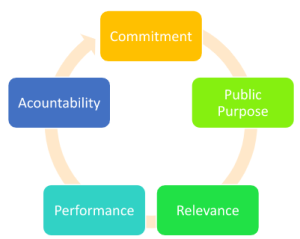 These 5 principles compliment the two justifications for the practice of trust-based philanthropy, which include: 
Improving effectiveness in achieving the philanthropist's goals. Efforts to create social, political, and economic equity would be more successful if funders proactively work to alleviate power imbalances in the sector by embedding trust, dialogue, and relationship-building in its practices with grantees.

Funders ceding power to grantees and beneficiaries as an end in itself, and as a means of redressing the imbalance of power between the rich and poor, between the wealthy donors and their beneficiaries or for other motives.
Trust-Based Philanthropy in East Africa 
This approach to giving addresses the inherent power imbalances between funders, nonprofits, and the communities they serve. At its core, trust-based philanthropy is about redistributing power— systemically, organizationally, and interpersonally—in service of a healthier and more equitable nonprofit ecosystem (Publicprofit.net, 2022). In its drive for a more vibrant philanthropy ecosystem, the East Africa Philanthropy Network (EAPN) engages stakeholders in the East African region to strengthen accountability and trust within the sector. 
The culture and practice within philanthropy in Africa and East Africa in specific is oriented towards trust. Communities interact better with philanthropy when they feel a sense of trust towards stakeholders in the sector. Delegating autonomy over how funds are distributed to a community recognizes that the community knows better than the donors and what is in their best interest. The views of grantees are often crucial for defining the problem to be solved and understanding its causes and analyzing all possible approaches to solving it.
Notable within East Africa though, is that many small organizations are limited from accessing grants through their lack of charity status, and operational power, while still being a driving force for vital projects. Without grantmakers who will adapt to their unique needs, these grassroots community groups will be stunted from growing their impact in their communities (Chollangi, 2022). By supporting these organizations EAPN is working towards changing this narrative and give credence to small organizations as well as allay the concerns of funders.
Relevance of trust in philanthropy
Traditionally, philanthropic institutions and private foundations have been reluctant to present reports on their activities and their accounts to the public. With the growth and influence of global philanthropy, critical voices have questioned this behavior. 
Some of the arguments that support the relevance of philanthropy include:
Lack of legitimacy: Philanthropy is bound by the founder's will in perpetuity and governed by a relatively small board not composed or elected in a democratic manner. This is seen as a systematic deficiency which cannot be relieved by enlarging the board or involving beneficiaries or anyone else in matters of governance. 

Insufficient organizational transparency: Although "philanthropy is everywhere", philanthropic foundations have remained opaque. However, public affairs today depend on the interaction of very different players in a cooperative spirit, in an understanding of mutual openness and disclosure, and on a level playing field.

Unclear public value: In an open society, any organization that professes to be committed to furthering the public good is obliged to keep the public informed on: (a) what it is doing to this end; (b) where the resources come from that enable it to do what it is doing, and (c) how decisions as to what it should do are reached. This is necessary for the public to be able to have an informed discussion on the intentions, measures, and impact of any contributor.
It is also imperative to explore a value-based reference system of making philanthropies' project and strategy choices a function of trust together with like-minded leaders from within the sector.
Conclusion
The practice of trust-based philanthropy recognizes the lived expertise of beneficiaries and grantees; it respects the time and effort that grantees devote to applying for, monitoring, and evaluating grants; and acknowledges the power imbalance between funders and grantees. Proponents of the practice argue that it enables donors to be more effective in their grantmaking and empower communities as a valuable end in itself. In East Africa there is evidence that trust plays a critical role in philanthropy whether formal (grants and aid) or informal (community led programs and communal sharing).
Trust-based philanthropy encompasses grantmaking practices that lessen the burdens on grantee organizations and improve the relationship between funders and their grantees. Most of these have long been considered good philanthropic practices. Donors would do well to learn from history about the successes, failures, and challenges of disregarding or embracing trust-based processes in philanthropy.
As an alternative to making trust-based donations, Sommers (2022) argues that we must strive for unbiased philanthropy. We need to make methods, criteria, weighting, involved experts transparent, and document our decisions. And this is exactly the opposite of what many of the new philanthropists are doing. Thus, the demand for 'trust-based philanthropy' is, at best, naïve. At worst, it can be counterproductive and dangerous. What our sector has to achieve instead is unbiased funding.
The experiences of philanthropy in East Africa indicate that funders and the organizations they support can be more effective, do more good in the world, and partner in the creation of more equitable outcomes if the sector is open to systematically listening to, and acting on, feedback from the people and communities at the heart of the work, especially those whose voices, historically and because of persistent systemic and structural and cultural exclusion, have been least heard.
References
Alter, R., Strachwitz, R. G., Unger, T. (2021). Trust in Philanthropy: A Report on the Philanthropy.Insight Project 2018 – 2021. https://assifero.org/wp-content/uploads/2022/02/Opusculum-161-Philanthropy.Insight.pdf
Chollangi N. (2022). Is Your Trust-Based Grantmaking Process Breaking Enough Rules? https://futureofgood.co/trust-based-grantmaking/
Magic Cabinet Foundation (2022). Promoting Capacity Building through Participatory, Trust Based Philanthropy. Publicprofit.net. https://www.publicprofit.net/Promoting-Capacity-Building-Through-Participatory-Trust-Based-Philanthropy
Nooteboom, B. (2006). Social Capital, Institutions and Trust. (CentER Discussion Paper; Vol. 2006- 35). Organisation.
Stanford PACS Centre for Philanthropy and Civil Society (2020) Trust-Based Philanthropy and Participatory Philanthropy. Chapter 13. The Leland Stanford Junior University. https://pacscenter.stanford.edu/wp-content/uploads/2021/10/Guide_FINAL_chpt.13_8.5×11.pdf
Sommers S. (2022). It's Time to Ditch the Mantra of Trust-based Philanthropy. https://www.alliancemagazine.org/blog/its-time-to-ditch-the-mantra-of-trust-based-philanthropy/#:~:text=In%202019%2C%20Vu%20Le%20coined,'
Trust Based Philanthropy Project (2020-2024): Culture https://www.trustbasedphilanthropy.org/culture
Trust Based Philanthropy Project (2020-2024): Leadership https://www.trustbasedphilanthropy.org/leadership
Trust Based Philanthropy Project (2020-2024): Structures https://www.trustbasedphilanthropy.org/structures
Vu (2019) Funders, you want to help build organizational capacity? Then stop trying to build organizational capacity and just give Multi-Year General Operating Dollars (MYGOD!) https://nonprofitaf.com/2019/06/funders-you-want-to-help-build-organizational-capacity-then-stop-trying-to-build-organizational-capacity-and-just-give-multi-year-general-operating-dollars-mygod/