Africa Philanthropy Conference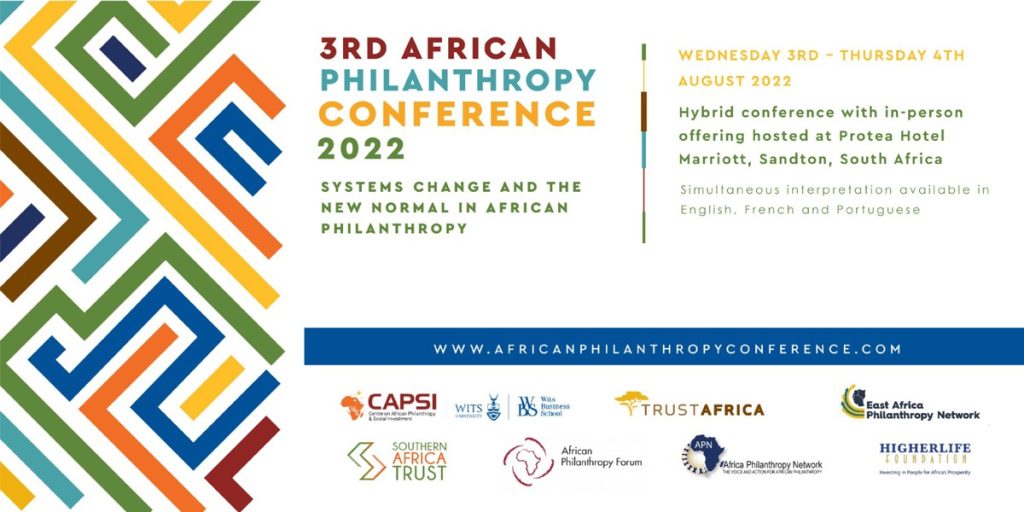 The African Philanthropy Conference is an annual gathering of the continent's leading philanthropic institutions serving as a platform for sharing of experiences and developing of philanthropic and social investment practices. The Conference is also an opportunity for the exchange of knowledge about various models and approaches to African philanthropy that will accelerate the understanding of the complexities of practices to aid the maturity of the field.
The third African Philanthropy Conference will be hosted as a hybrid event on Wednesday 3rd and Thursday 4th of August 2022, with the in-person offering being at Protea Hotel Marriott in Sandton, Johannesburg. Simultaneous interpretation will be available in English, Portuguese, French.
The conference has been framed into 3 thematic areas and 9 subthemes.
Philanthropy and Climate Change 

Subthemes: Food Security, Migration and Environmental Impacts

Philanthropy and the African Youth

Subthemes: Youth Participation, Youth Giving, Education and Awareness

Technology and Systems in Philanthropy's practices 

Subthemes: Technology Education, Technology Adoption and Systems Integration
The hosts of the conference are the Centre on African Philanthropy and Social Investment and Social Investment (CAPSI) in South Africa, TrustAfrica in Senegal, Higherlife Foundation in Zimbabwe, the Africa Philanthropy Forum (APF) in Nigeria, the African Philanthropy Network (APN) in Tanzania, the East Africa Philanthropy Network (EAPN) in Kenya and the Southern Africa Trust in South Africa.