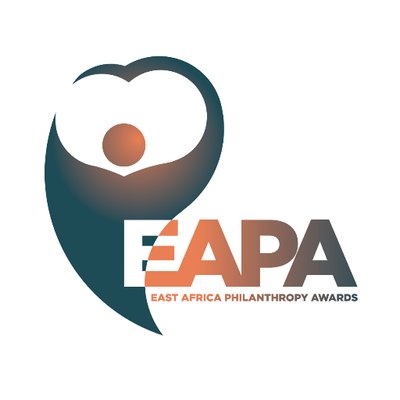 Although the COVID-19 pandemic caused untold suffering to many, mitigation strategies unveiled the best of humanity as the Jury of the 4thEdition of the EAPA found out.
Comprised of Rosemary Mutunkei – Philanthropy and Sustainability Practitioner, Shimi Ntuyabiliwe – Executive Director, Dr. Reginald Mengi Foundation (DRMF), Thomas Kyokuhaire – Country Director ADD International Uganda, Chilande Kuloba – Warria – Viwango and Nicanor Sabula – Managing Director African Association Management Company (AFAMCO) the team vetted the nominations looking for agility, creativity, and innovation. The Jury received a total of 91 nominations, "each nomination was a winning nomination!", said Nicanor Sabula, Jury Chair.
Launched in 2011, the EAPA is a mechanism established by the network, to identify, recognize and celebrate outstanding individuals and organizations transforming lives through philanthropy. This year the awards sought to celebrate, showcase and amplify philanthropy champions who ensured communities endured and even prospered amidst the effects of the global pandemic.
"Their actions demonstrate that help is just a step away and that you can use the resources at hand- however small to trigger a change in the society," said Dr. Vijoo Rattansi during the colorful virtual occasion that took place at the close of the 7thEast Africa Philanthropy Conference on 9thSeptember 2021.
In honor of their work, following the virtual event, the network has also taken the opportunity – COVID protocols permitting to physically present the awards to some of the winners.
Below are the stories of our heroes' men, women, and organizations who cushioned vulnerable communities from the effects of the pandemic.
PRIVATE AND CORPORATE PHILANTHROPIST CATEGORY
Standard Media Group – Kenya emerged as the winner in this category. In this class, the Jury was looking for a corporation that had swiftly adapted its systems to accommodate emerging challenges as a result of the crisis while ensuring solutions responded to the needs of marginalized communities.
During the pandemic, the Group conceptualized and promoted a successful #StandwithKenya Campaign that rallied corporates and individuals to support the most vulnerable. Further, the Group has also leveraged the power of the media to support philanthropic causes in an effective and sustainable manner. It has covered many social impact projects through its print, radio, TV, and online platforms.
The Group encourages and engages the public to support causes through its great asset of storytelling covering diverse community causes. They promote and celebrate community change-makers and local heroes.
Standard Media Group is a role model in the region being the first media house to incorporate a dedicated philanthropy arm in 2019. The Foundation focuses on Environment, Education, Health, and Advocacy on Disability. This is a bold and admirable move, with a clear path towards community support beyond the mainstream media business.
Charles Kimathi Corporate Affairs Manager received the award on behalf of the Group.
PIVOTING ACTIONS TO ENABLE COMMUNITY RESILIENCE (CSO AWARDS)
Uganda's Child Care and Youth Empowerment Foundation clinched the Civil Society Award for supporting over 200 teenage mothers, children, and other vulnerable groups in the community. Specifically mentioned was Ruth Namusisi a Programme Coordinator within the organization who acted with speed to address the food, health, and economic needs of the community. Mobilizing resources from various corporates and well-wishers, she was able to ensure the vulnerable groups in the community received food, healthcare, psychosocial support for those bereaved, seed capital to start businesses as well as facilitate victims of gender-based violence report their cases while linking them with political leaders to ensure they receive justice.
While presenting the award, the Jury noted that not only does the organization demonstrate agility in addressing community challenges, but they also possess an internal culture that enables staff to take initiative in service to their cause.
SPIRIT OF PHILANTHROPY AWARDS (INDIVIDUAL AWARDS)
This category had three winners from Kenya, Tanzania, and Uganda. The winners went out of their way to show kindness to immediate and connected communities and also rallied peers and the community to support those in need.
GERVAS EVODIUS – TANZANIA
"It starts by standing with the poor, listening to voices unheard, and recognizing potential where others see despair". This is an apt summary of Gervas.
As the founder and Director of Hakizetu Organization, Gervas has used the organization as a vehicle to work towards building ajust society where human rights and the voice of the voiceless young women and girls are heard, supported, and advocated for at local, national, and international arenas. In addition, he has been critical in steering the growth of other youth-led and youth-serving initiatives including the African Vijana Organization, NOELI Foundation-Kenya, SPEAK-Kenya, ECAN, Dodoma Youth Development Organization, NIHEP.
As an individual, he has been inspiring young people to build self-confidence, nurture their talents and utilize them to improve their economic well-being. He has pioneered several initiatives in rural communities as well as in underserved communities in the urban centers to uplift the welfare and dignity of these communities and enabling them to break the cycles of poverty. Gervas has also pursued creative avenues to bridge the gap between different community members, for example, initiating a community football league dubbed HakizetuLeague with a Theme of "Piga Boli siyo Mkeo"(Kick a Ball Not Your Wife).
This league intends to unite youth and community members and contributes to ending gender-based violence in rural communities. Gervas believes that leadership is inspiring others to lead by example. In the wake of the pandemic, Gervas provided seed capital to keep women and girls' businesses thriving as well as training them on the make and produce COVID-19 essential items such as face masks, soap, and sanitizers.
Despite being a serial fundraiser, digging into his pocket is not new, he continues to give substantially to young people in his community by providing shelter, supporting education programs, vocational training, and providing health insurance to most vulnerable children in rural areas.
‍
‍DIANAH KAMANDE – KENYA
Dianah Kamande holder of Kenya's prestigious Head of State Commendation (HSC) has been at the forefront in championing the rights of widows, survivors of gender-based violence, orphans, and vulnerable children, through the Come Together Widows and Orphans Organisation. While her work through her organizations is impressive, her personal drive and passion for the less fortunate shone clearly in the face of the challenges that hit communities in Kenya during the pandemic.
Dianah, rallied her friends and family through her social media platforms, to feed over 2000 families. She utilized the Valentine celebration of love to extend her love to others and hosted a Valentine's Eve Fundraising Dinner where she was able to raise enough funds to cover tuition fees arrears for 45 Orphans and other vulnerable children. In addition to these initiatives, she guided her organization to ride on the strength of partnerships to extend its reach and support survivors of gender-based violence which was on the rise during the lockdown. As a result, she was able to rescue 150 women and girls and 15 men and secure cash transfer funds for their psychosocial support.
Many perceive her to be a gift to this generation.
REBECCA NAYIGA – UGANDA
Rebecca was commended for her initiative to support a section of often-overlooked members in our communities. As the effects of the pandemic wore on, she identified nine Persons with Disabilities in her community and mobilized food, medical relief, money, and requisite physical support and assistive devices. She raised funds from friends and family and was able to garner support from local businesses and procured wheelchairs, clutches, knee boots, hand boots, hearing aids, and walking sticks for nine and to ensure they continue to receive regular support in the future. In addition to this, she also connected them to respective Disability associations.
Her actions are a true example of what one person can do to transform the lives of many, not because of anything other than spotting a community need and taking decisive action and rallying others to extend the same compassion to those who may be less fortunate than themselves. A true mark of leadership.
ADVOCATE FOR GIVING PRACTICE (MEDIA AWARDS)
Targeted at media houses, journalists, reporters, or photographers who consistently identify acts of service and showcase them through their channels. This award seeks to appreciate individualswho go out of their way to profile changemakers in the giving space through their media and art forms. This year the award went to Impact Hub media in Kenya. A media hub with a mission to amplify the voices of changemakers through solutions journalism.
"Impact Hub took the prize in this category as it has shown unmatched zeal to highlight positive stories of change-makers organizations, institutions, and individuals working to solve different challenges facing the continent of Africa today," said Shimmi Ntuyabiliwe a member of the Jury. The media hub celebrates local heroes, through stories that promote and inspire a giving culture in communities. It has highlighted award-winning stories of people and organizations offering scalable solutions to the problems facing the continent of Africa today.
While receiving the award, Lillian said, "having worked in the media, where the is focus on winning stories we realized there was a gap covering phenomenal stories from ordinary people transforming communities for the better" she said.
PHILANTHROPY LIFETIME AWARDS
Similar to the Spirit of Philanthropy Award, this category had three winners and honored visionary leaders and philanthropists throughout the community doing extraordinary things to make East Africa a better place for the growth and development of Philanthropy. The Lifetime Achievement Award demonstrates individual excellence in leadership as demonstrated by outstanding initiative, impact, and inspiration to others.
"This award is given to exceptional individuals from Kenya, Uganda, and Tanzania you to encourage others to follow your lead," said Dr. Manu Chandaria while presenting the award at the virtual event.
Karimjee Jivanjee Foundation-Tanzania
As one of the winners in this category, Karimjee Jivanjee Foundation was recognized for its immense contribution to education and research. The Foundation has been advocating for the advancement of science and technology, promoting wildlife conservation, encouraging research into oncology scientific study that is still in its budding stages in the region, and generally uplifting communities for over 100 years.
Her Royal Highness, the Nnabagereka (Queen) of Buganda, Sylvia Nagginda- Uganda
Royalty Sylvia Nagginda was honored for going beyond her call of duty and shining a spotlight on the plight of women and children in disadvantaged situations and in so doing, cultivating the virtues of "Ubuntu Bulamu", youthful industriousness, and civic engagement.
"You have done this for decades in Uganda and we want to acknowledge and deeply appreciate your efforts towards an equitable, inclusive, and peaceful world grounded in human virtues" said Dr. Manu Chandaria as he presented the award.
Hirji Shah OBS, OGW-Kenya
Holds the Order of the Burning Spear (OBS), and the Order of the Grand Warrior of Kenya (OGW). He is the Director, Kenya National Qualification Authority; Director University of Nairobi Enterprise and Service Limited; Director Centre for Corporate Governance, Trustee Chandaria Foundation; Trustee Federation of Kenya Employers.
Hirji has many decades of influencing the sector and is well recognized and known in the country. He was honored for the silent and yet significant and life-changing contribution he has made over the years, offering valuable technical leadership and oversight in both the private and public sectors. He has offered the mustard seed effect in all the positions he has served with lots of changes and impact and greatly contributed to the growth of philanthropy in the region.
JURY'S AWARD
This award is issued at the discretion of the Jury and is given to a person or an organization that exhibited extraordinary performance in offering philanthropic services to humanity.
The winners in this category were Kenyan Kennedy Odede and Lizza Kawooya from Uganda.
Kennedy Odede, Shining Hope for Communities (SHOFCO)
Kennedy Odede is the founder and CEO of SHOFCO, Kennedy is one of Africa's best-known community organizers and social entrepreneurs. Kennedy grew up in Kenya's Kibera slum, the largest slum in Africa, where he experienced the devastating realities of life in extreme poverty firsthand. The oldest of eight children, he became a street child at the age of ten. Still, he dreamed about changing his community. In 2004, he got a job in a factory earning $1 for ten hours of work. He saved 20 cents and used this to buy a soccer ball and started Shining Hope for Communities (SHOFCO).
Driven by the innovation and entrepreneurial spirits of the people of Kibera, SHOFCO became the largest grassroots organization in the slum. Kennedy focuses on holistic and sustainable solutions to the problems that plague informal settlements, we anticipate that the mark that Kennedy leaves will last for years to come. In the midst of the COVID-19 pandemic, Kennedy worked tirelessly to ensure that the urban slum dwellers who were largely left to fend for themselves did not suffer. Kennedy led the mobilization of grassroots and community-driven responses to the challenges posed by the pandemic. Despite lockdowns and restrictions, Kennedy spearheaded a resource mobilization effort that not only provided rapid response and mitigated against the effects of COVID-19 relief on the community, but he has also used his cumulative experience so far to initiate and agitate for increased support and resources to local communities. "A telltale sign of a true leader is how he or she responds to adversity. Throughout his life, Kennedy has met adversity without hesitation making him a befitting recipient of this award," said Nicanor Sabula, member of the Jury while presenting the award.
This award recognizes Kennedy's continuous efforts so as to encourage him to keep providing inspirational and impactful philanthropy leadership.
Lizza Marie Kawooya
Lizza Is behind My Voice Podcast in which sheshares voices, personal stories, opinions and experiences of youth and adolescents on particular life-related topics geared towards the eradication of Gender-Based Violence and gender inequality. Beyond voicing experiences Lizza's has also raised the dignity of girls and women from the low resourced communityof Nyowa Village, Gulu town through a fundraiser that successfully placed over 100 girls on menstrual management. My voice podcast also delves into issues within the community. These include anxiety, depression, low self-esteem, self-worth, mental health, among others. She has hosted prominent people on the podcast such as Mrs. Angela Nakafeero who is the Commissioner, Ministry of Gender Labour and Social Development.
Lizza also serves as the Head of Fundraising for Enjuba. They buy books for children and train teachers in rural areas on how to teach children. Lizza Marie Kawooya continues to serve her community.