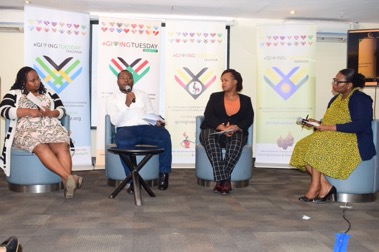 GIVING TUESDAY EAST AFRICA SUMMIT
On 28th October 2021, the East Africa Philanthropy Network hosted Giving Tuesday partners for the Giving Tuesday East Africa Summit at a hybrid event with physical and virtual participants drawn from the region.
As a precursor to the global Giving Tuesday campaign on the 30th November 2021, the Summit aimed to equip partners for the Global Day of Generosity as well as provide them an opportunity to share their experiences and learnings from the pandemic.
Following the State of Philanthropy Report, presented by Evans Okinyi, CEO EAPN, participants were taken through a session on how to leverage the power of social media to tell their stories by fully utilizing the tools and elements in their digital ecosystem. Some of the pointers given to enhance storytelling included; ensure you have social proof, community engagement, and trust. Participants then gave brief summaries of their projects allowing partners to identify areas of collaboration in an enlightening session facilitated by Wanjiru Kanyiha from the Kilimani Project Foundation who was the moderator for the day.
This was followed by a lively panel moderated by Jacqueline Lidonde from the StepWise Foundation where panel speakers shared how they coped and the adaptations they made during the pandemic including the lessons they would be taking forward.
Some of the key points brought out during the panel discussion included:
"The pandemic made us tap into the power of family, friends and initiate staff giving to address the impacts of the pandemic within the communities we serve" The Jomo Kenyatta Foundation
"Kenyans are good one-time givers also the use of influencers to support the mission is an aspect that non-profits need to embrace in order to improve local giving as people give to those who know" Good Kenyan Foundation
Closing the event was a presentation on the use of data to inform Giving Tuesday campaigns. "Data helps you to better understand the fluctuations in, and drivers of generosity, pinpoint risks and opportunities," said Mike Omaera, EAPN while making the presentation.
The Summit was lauded as a timely event "with lots of learning and engagement" added Grace Wanene from Driving Dreams Initiative (DDI) Initiative. Partners left the Summit challenged to scale up their Giving Tuesday campaigns by; identifying a need, mobilizing networks and community, using storytelling to disseminate knowledge, engaging volunteers as some of the many nuggets identified during the event.
The East Africa Giving Podcast was also launched at the event. Coordinated by EAPN the podcast is a series that aims to give youth changemakers a voice and platform to share their giving stories and inspire future generations of givers.